First Choice Ingredients Adds Spray Drying Pilot Plant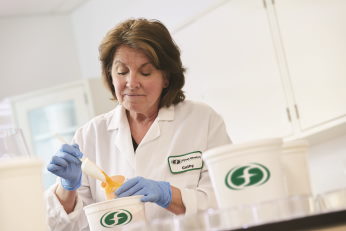 Research and Development Lab at FCI. Photo: First Choice Ingredients, Inc.
The plant will reduce research and development time for clean-label dairy concentrates.
First Choice Ingredients (FCI), Germantown, Wis., announced the addition and certification of a new spray drying pilot plant. The company said the plant will allow customers to have smaller quantities of clean‐label dairy concentrates in days rather than months.
"From a few pounds of organic butter to a few hundred pounds of sharp cheddar, we now have a solution to help speed up our customers' scale‐ups," said Roger Mullins, senior vice president, FCI. "Everything today is faster, faster, faster. Now we can deliver our clean-label cheese and dairy powders quicker than ever. We're finding that entrepreneurial‐minded companies really appreciate the responsiveness."
FCI said its expansive dry product line, including organic, kosher, rBST‐Free and Non‐GMO Project Verified variations, is now available for quick scale‐ups. That includes popular concentrates like brown butter, cave‐aged blue cheese, sweet cream and FCI's new toasted cheese offerings.
"In today's world, nobody wants to wait. Speed to market matters," said Mullins. "Our new offering means we can put hundreds of clean-label dairy concentrates in the hands of R&D, chefs and food scientists quickly. Our customers love it because they know their launch can be right around the corner."
This article was originally posted June 12, 2019 via DairyFoods.com.
Original Link: https://www.dairyfoods.com/articles/93673-first-choice-ingredients-adds-spray-drying-pilot-plant